Ceramic porcelain tiles are a really convenient and practical type of flooring. Sometimes however it can be difficult to find the right style for your interior. . It can be difficult to imagine a classic style living room or an office with a tiled floor. Even for these areas however, wood style floor tiles might just be the answer.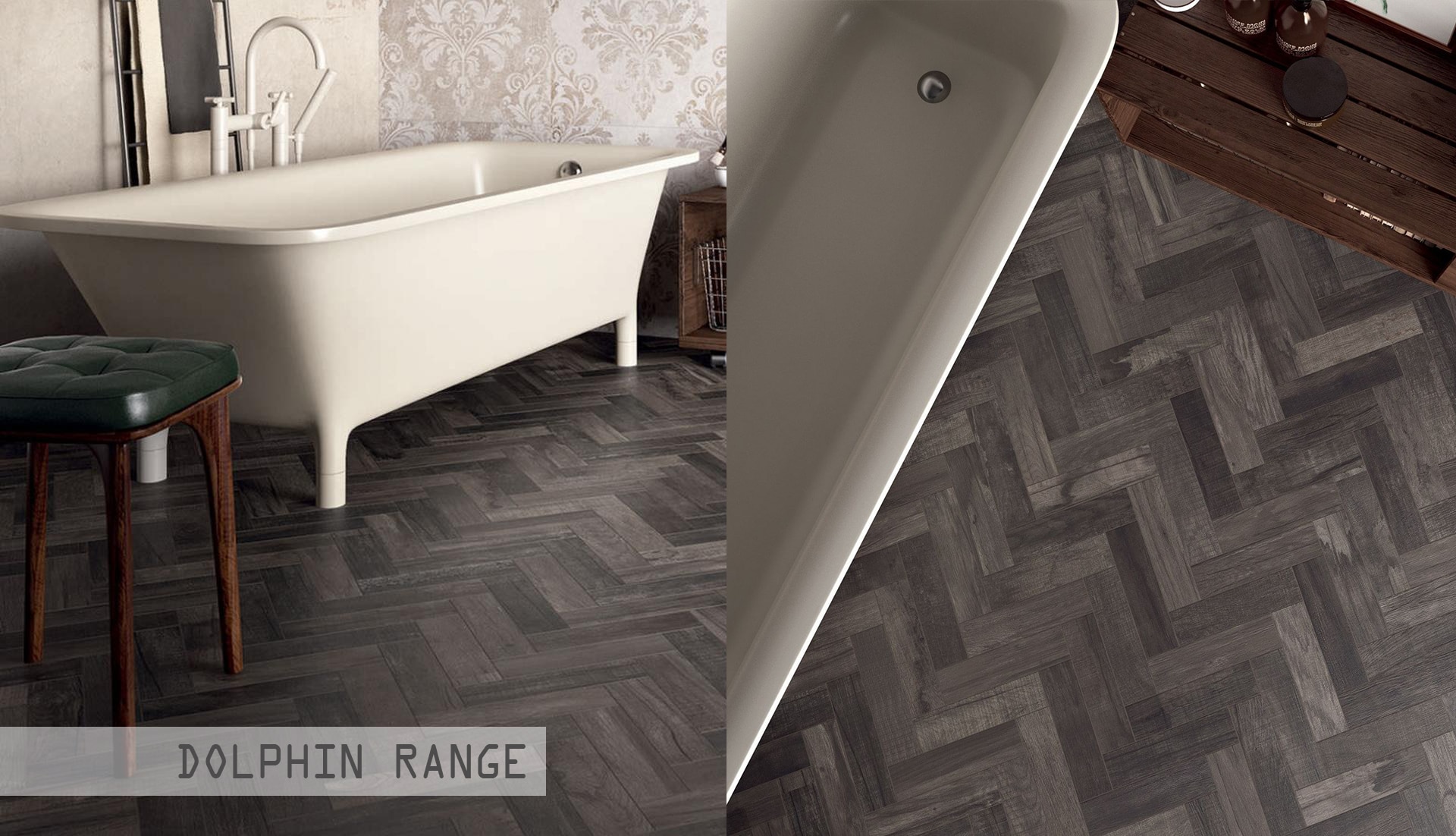 Dolphin takes its graphic inspiration from wooden poles, modelled by time and water and when combined with color, it turns into lines and contrasting brushstrokes. With the combination of wood and color, Dolphin is offered as different types of long planks. The textured finishing enriches the series into a realistic wood like material.
So, wood style tiles, in fact, are the same as floor tiles, but with a special design. Their shape and relief pattern is completely similar to natural wood. From a distance it is almost impossible to make the distinction  from the real thing. The difference will be noticeable only when you walk on it, barefoot.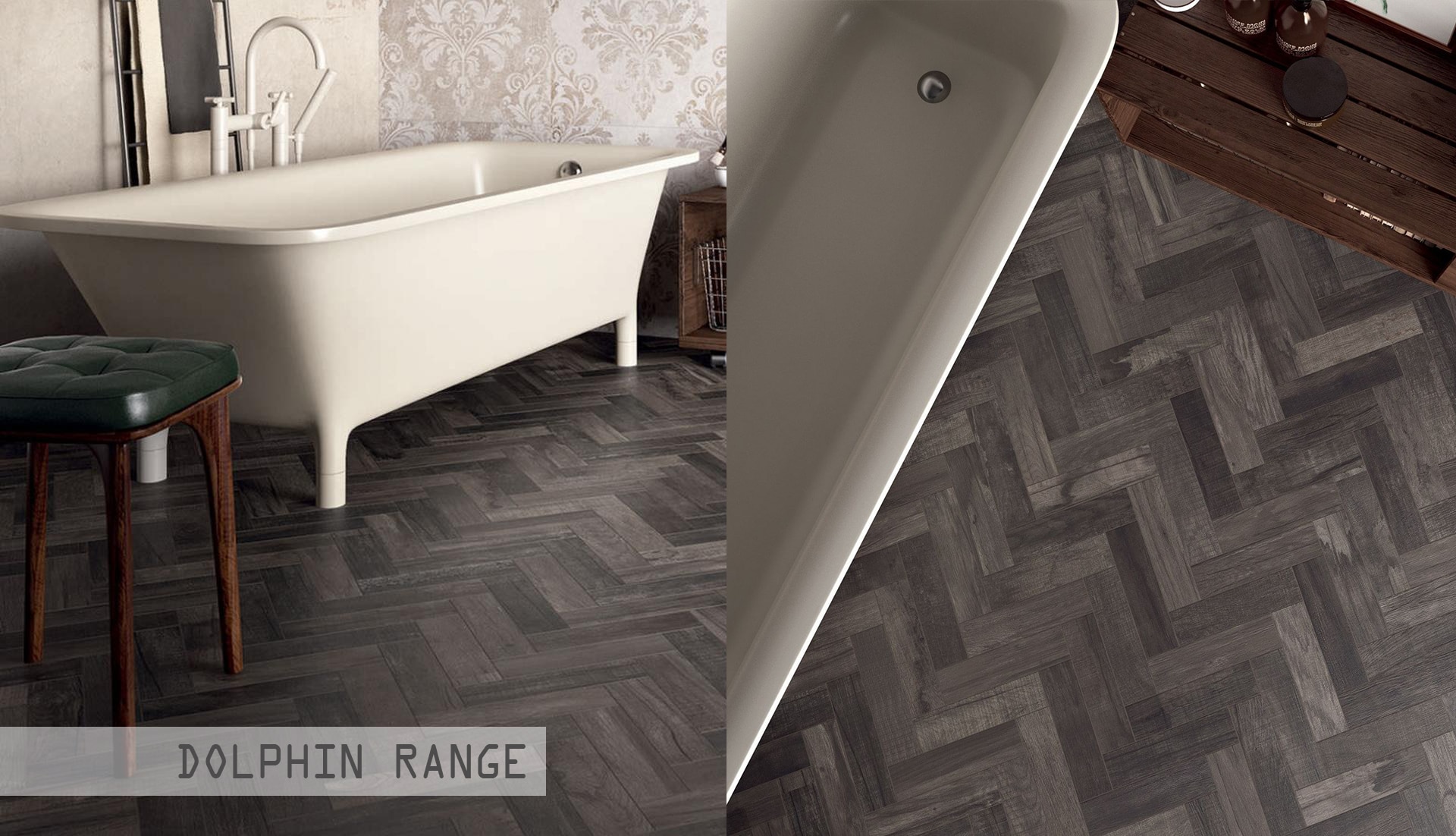 By buying flooring such as wood style tiles for your home or office, you will have a practical, durable, easy to install and low maintenance surface which will have pleasing design characteristics.
Wood style floor tiles will look equally impressive in bathroom areas.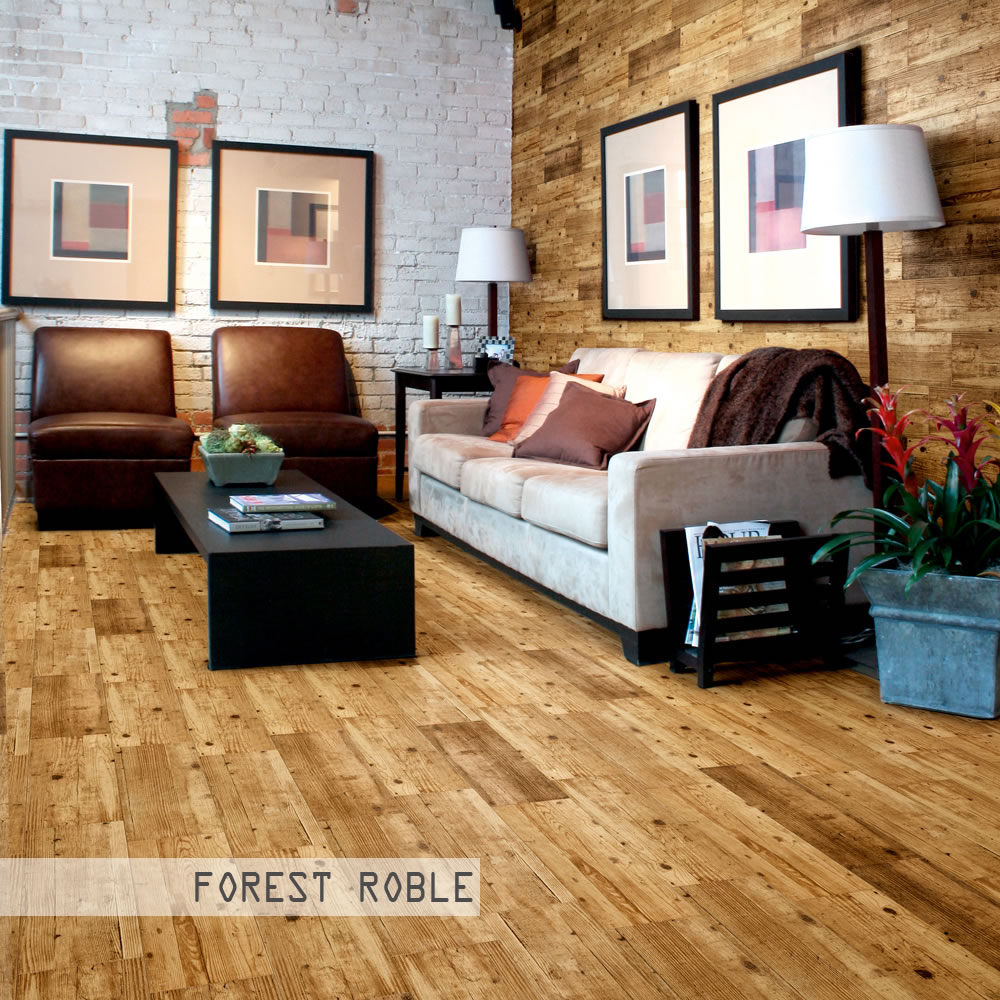 Forest is a range of floor tiles that has come to us just at the right time, as ceramic floor tiles are now as beautiful in design as they are versatile. Forest Natural has a natural random grain effect with knots making almost impossible to tell the difference from the real thing. Forest Natural is a GREEN PRODUCT as no trees have been felled to create this fabulous range. The versatility of the size and ease of fixing also allows Forest Natural to be used as a wall and floor tile and it's easy to clean with a wipe down surface that doesn't hold the dirt. Forest Natural floor tile is available in 205×615 mm size. There are many ways to lay this product from planking effect, herringbone and parquet flooring style. This range would flatter any new kitchen or bathroom.
Ceramic or porcelain wood style flooring is so good that in comparison with real natural wood the following advantages apply :
Waterproofing (with appropriate fixing)
Fire Safe;
Resistance To Wear;
Simple Care and easy to maintain;
Frost Resistant (Porcelain Tiles)
Slip resistant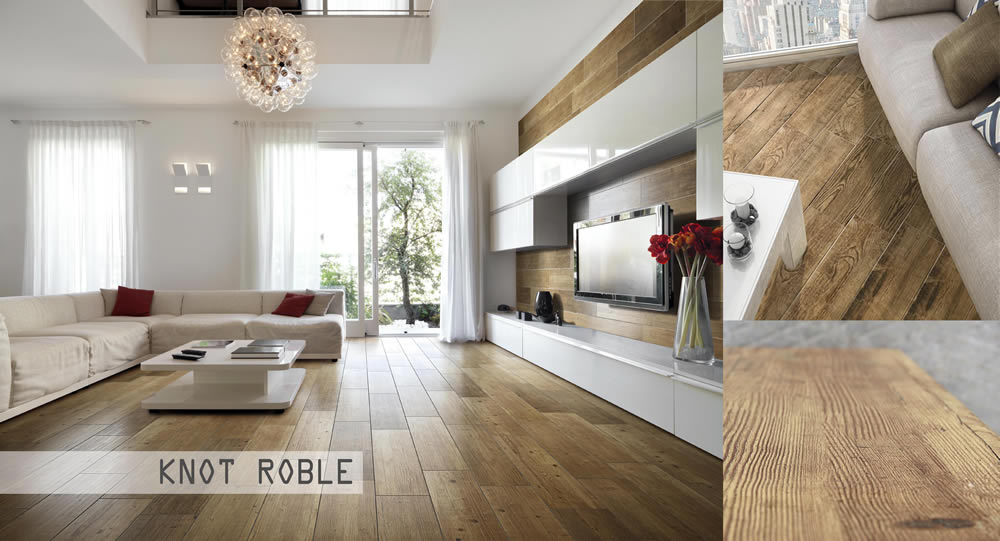 This wood effect floor tile, the Knot range tiles has a most authentic finish and it is hard to accept on first sight that this is not actually real wood. The surface texture looks and feels like wood. The four natural wood colours are true to nature, and the two grey tones are a more modern shade with the plank format still available as one fixing option. The Knot Roble tile is suitable for Bathrooms, Kitchens, Hallways, Living rooms.
In comparison with natural wood flooring, wood style tiles can be any colour, even those that don't exist in nature. The most popular shades are brown, grey and beige. The floor in this design will look respectable, solid and very similar to the real thing.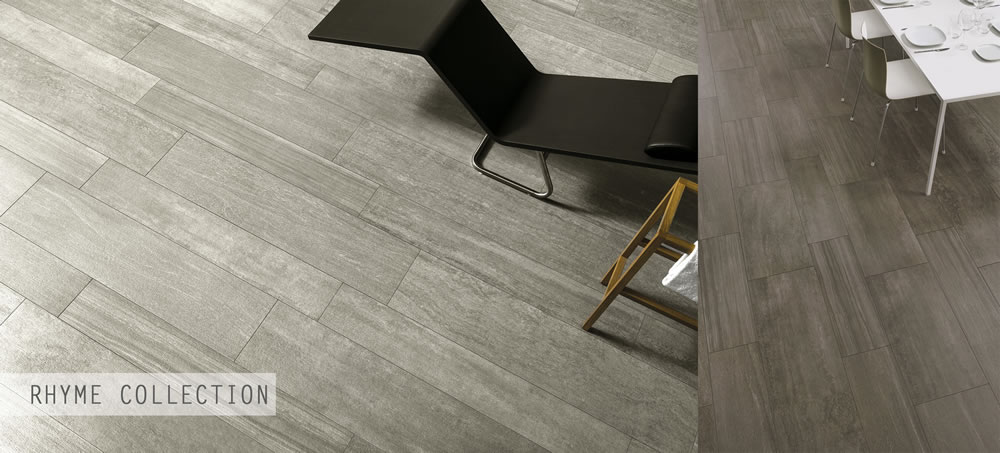 Nature is the source of inspiration for a new material. These tiles are made in Italy with porcelain stoneware as the framework for the basic elements of shape: colour, texture and size. The natural surface, finely chiselled: the merger of elegant aesthetics and soft tactile sensations. A contemporary plank-size tile supplements the existing square and rectangular sizes of the collection: a new perspective of the space that enhances possible applications and modular installation solutions. The Rhyme range has two colors and two different sizes. Rhyme is suitable for wall and floors in kitchens, living rooms and conservatories.
The wood effect of these tiles is found not only in the texture, but in the format as well (square or rectangular). Some collections mimic the size and shape of solid real wood or parquet blocks. Usually, factories offer collections of one or many shapes and sizes that can give a wide variety of laying options, which helps to create the illusion of a natural wood floor.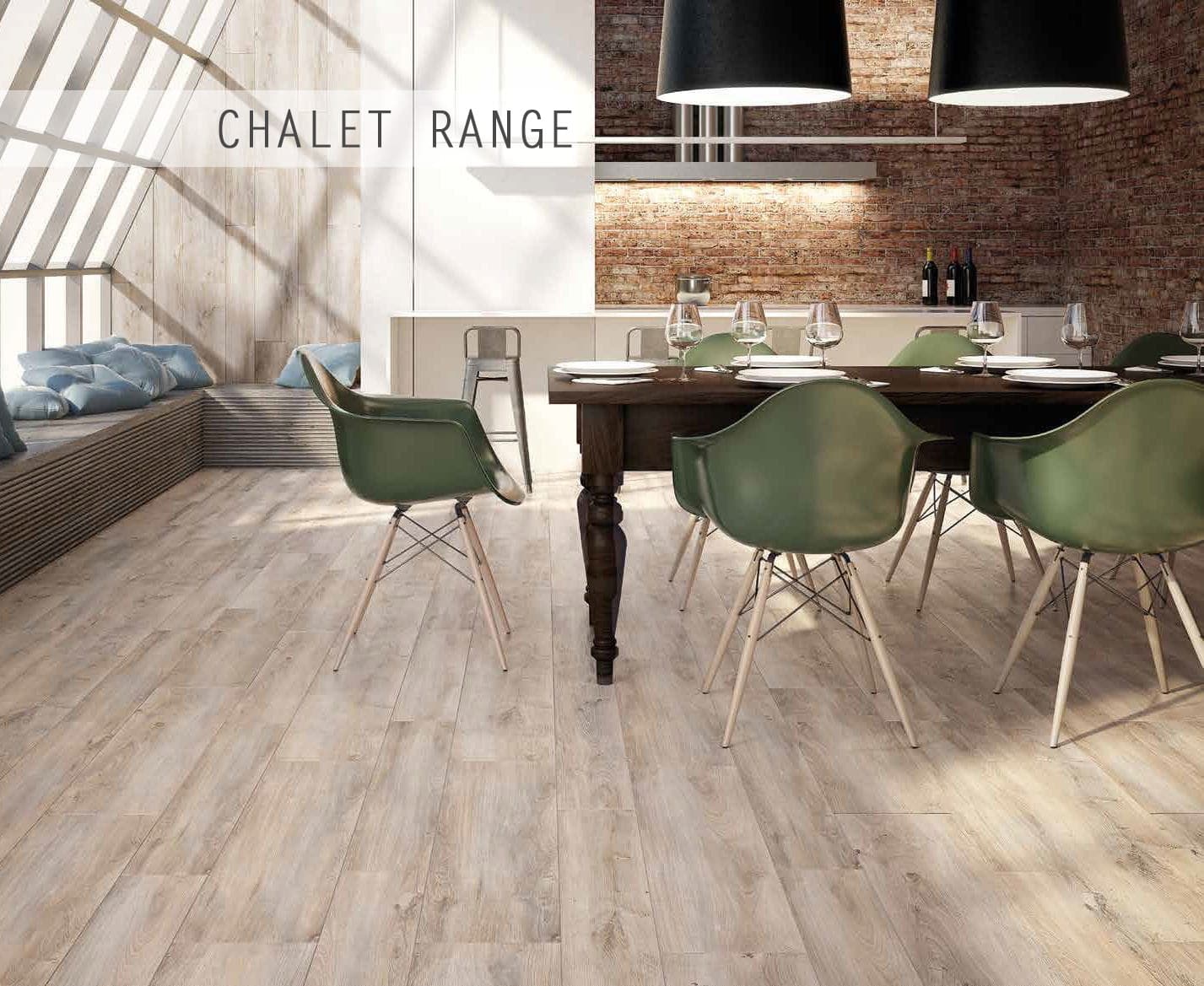 Chalet is an Italian porcelain tile with a wood effect design. It allows you to create the look and feel of real wood in your home. Porcelain is a highly dense material that has many benefits including resistance to water and being less susceptible to scratches. Perfect for creating stylish look in bathrooms, kitchens, hallways and conservatories.
Wood effect tiles are one of the key emerging trends in interior design right now, capturing the beauty of natural timber and combining it with the durability and ease of maintenance of tiles.
Want to know more about these tiles? Call or email us! And choose the tile from our range!